Mel's Thoughts: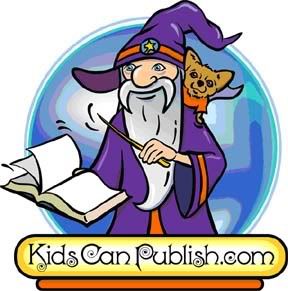 Five Star Publications recently introduced us to a website called
Kids Can Publish University
. This site was basically started to get kids even more interested in writing and illustrating, and simply, in creating; they would have the opportunity to see their writing or drawings come to life, in published form, via monthly contests. First through ninth graders are welcome to submit their manuscripts for the contests.
This website is not only a great tool for kids, but it's a wonderful resource to teachers, as well. With workshops, helpful hints, info on grant writing, etc., it's a very handy website. Kids Can Publish is also an avenue by which a teacher can have authors of children's books come to speak to her class. Also available is a section that helps give the teacher ideas for writing assignments/projects for her students.
The best thing about the contests is that they are free. So, this is a writing project that could be a monthly project for your child or your student. They don't have to just write stories, though; they can write poems, nonfiction pieces, editorials, or articles; budding artists can submit cartoon drawings, illustrations, photography, drawings, etc.
You can learn more by just browsing around
Kids Can Publish University
.
Melissa J's Thoughts
I, as an adult, dream of being published, so what a thrill for kids, that they have the potential to be published. Kids Can Publish University is a website that offers that potential to children. I was surprised to see that there was no fee to use this service, put out my
Five Star Publications. The only action required, is for kids to submit their piece, via the submission page (parents, don't worry. You must sign the permission slip for them to do this!) Pieces are then chosen on a monthly basis for publishing in a contest style choosing. Anything from creative writing to pictures can be submitted.
I can see a positive to this site and a negative. Negative first. Not being chosen could devastate a child. To do this on a "only the very best entries" are published, could be rough after awhile on a child who's entries are not chosen.
The positive is, this could really be used as a tool to encourage your child's creativity. It can also teach them perseverance, even in the face of rejection. And what's more, if something does end up being published, what an awesome motivator for your child to continue broadening their talents and abilities!