This Giveaway has now ended. Congrats to tmc480 for winning it!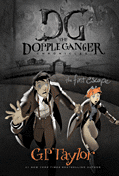 Book 1
The First Escape
The Doppler Ganger Chronicles by G.P. Taylor

Ages: 7-13

Retail value (per book): $19.99

(From the Tyndale Site) G. P. Taylor: A motorcyclist and former rock band roadie turned Anglican minister, Graham Peter (G. P.) Taylor has been hailed as "hotter than Potter" and "the new C. S. Lewis" in the United Kingdom. His first novel, Shadowmancer, reached #1 on the New York Times Best Sellers List in 2004 and has been translated into 48 languages. His other novels include Wormwood (another New York Times best seller which was nominated for a Quill Book Award), The Shadowmancer Returns: The Curse of Salamander Street, Tersias the Oracle, and Mariah Mundi. Taylor currently resides in North Yorkshire with his wife and three children.

G.P's books, The Dopple Ganger Chronicles have parents raving - - and I'm pretty impressed myself, which is why I requested some review copies for Mama Buzz. This is a brilliant idea! G.P. has combined the new rage of manga, with regular styled writing, to bring a series to the younger adolescent age group that will captivate and have them storming bookstores for the newest release.

The books follow the adventures of twins Sadie and Saskia Dopple and their friend Erik Morrissey Ganger, all residents of a school for wayward children. Book 1 saw Sadie and Saskia being separated as a very mysterious and rich woman adoped Saskia. Once adopted, Saskia founds she was in danger. Back at the school Erik and Sadie began the dangerous filled escapade to rescue Saskia.
Book 2 opens with Erik immediately in a sticky situation in a hidden tunnel that he didn't mean to find. As the pages progress, an old enemy from Book 1 reappears and all three children find themselves in danger - and adventure - once again.
Not only is this an exciting series for kids to read, the style it is presented in, makes it the most unique book I have ever seen. Punctuated with manga-based comic strips and art work, the writing of the book is broken up so that even a young person who struggles to read will stay engrossed in the book. After The First Escape came out, parents began writing about how their children who struggle to read, were glued to the books. Kids who live with ADHD, dyslexia, and learning disabilities, have all taken to this series and parents are expressing gratefulness for that fact.


The only way to explain how the book is set up to allow readers to see for themselves. Chapter 1 of The First Escape is available in PDF format, as is Chapter 1 from The Secret of the Indigo Moon.
I have a copy of both Book 1 and Book 2 to give away. They will be given together. To enter, leave a comment with your email address.
Additional entries:
1. Follow this blog
2. Tweet this post using @mamabzz

3. Blog about this post
4. Follow us on Twitter

Disclosure: both of these books are complimentary copies for review and giveaway purposes.


Posted by MamaBuzz at 7:23 AM  
Labels: books for 5th - 6th, Books for Jr Highers