Mel's Thoughts: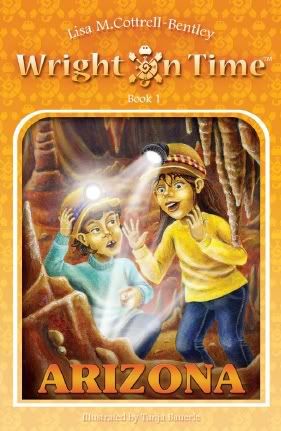 The boys and I have been reading a new chapter book before bed at night; it's part of the
Wright on Time series, Book 1: Arizona
by Lisa Cottrell-Bentley. It's an adventure story; only, it's not your typical adventure story. It's the story of a homeschooling family's adventure in Arizona. The Wright family lives in an RV, travelling to all sorts of new places to explore and learn and just be together. This particular story is set in the state of Arizona.
As the story unfolds, the family is going on a cave exploration for a day. They have found a cave that is family-friendly, and they are going to see what they can find, what they can dig up. They end up finding a room filled with bats, and they find some pretty cool rock/mineral specimens, like garnet and wulfenite. Nadia and Aidan explore the differences between stalactites and stalagmites ("Stale egg mites," in Aidan's words). At the end of the day, the owners of the cave unknowingly lock them in the cave....will they be stuck there all night, in the dark, without anyone to hear them hollering? Hmmmm.....I guess you'll just have to read the book.:)
The more we read the story, the more I realized how much educational material was contained in this one book. It is essentially concerning caves. There is a lot of great science material covered throughout, so it would make a great supplement to a study of caves. Not only that, but just the way the family lives and interacts is a wonderful example for children; it's not one of those adventure stories that's packed with all sorts of stuff you wouldn't want your child reading. It's a book that I would totally feel comfortable letting Jacob read and have no worries about. I love the fact that it's about a homeschooling family; as a homeschooling Mama, I just want to promote, promote, promote this series.:) The only thing I found a tad bit repetitious was Aidan's use of the word, "Freaky." I think I'm the only one that noticed, though, because Jacob seemed pretty absorbed in the story.
Find out more about this series by browsing through the
Wright on Time website
. You can buy Wright on Time: Book 1: Arizona for $12.99 in the
Wright on Time Store
or from
Amazon
. You can also watch the following video to find out more about this book:
Melissa J's Thoughts
The Wright on Time series is a series that writers like me think, "Now, why didn't I think of that?!" I mean, what a concept - an entire series based on each state in the US! Not only is a series like this, a writer's dream, it's an awesome collection to build up for children.
Homeschooling families need to start getting this series! It teaches some history, alot of geographical facts, has vocabulary words in the back, and would be great books for book reports! These books are going to be an invaluable resource as time goes on for many families.
I enjoyed, even as an adult, reading Book 1: Arizona. I had no idea that you could mine in caves for gems and for the first time in my life I will now remember the difference between Stalagmites and Stalactites (G for ground, C for ceiling.) In fact, book 1 made me excited about Book 2 and it also made me wish I could homeschool our children in an RV and travel the States!
The only thing that made me have a question, is the bat cave? I wonder how true to life this is, because I thought bat poop/urine gave off toxic fumes and if a cave was full of thousands of bats, going in that cave (much less sitting on the floor of it) could be dangerous. That is the only thing in the book that didn't seem completely accurate.

The Wright on Time series is more than a book I'm reviewing for Mama Buzz. I have already determined that it will be a part of my homeschool curriculum. I can't travel the states in real life, but I'll enjoy my travels with my children as we go through this series in the years to come.