Mel's Thoughts: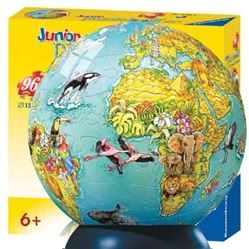 Timberdoodle
is a great company full of
homeschool supplies
and
homeschool curriculum
. Once again, we received a wonderful product to review, the
Puzzleball Globe
.
The Puzzleball Globe is a 96-piece puzzle that is different from any other we've ever done. It actually fits together in a round 3-D globe, resting on a small base piece that comes with the puzzle. It's a very handy thing to have not only for geography, but for a cold, rainy day. It's also a great substitution for a video game on said cold, rainy day (just stating from our experience). :)
Yesterday Jacob and I spread this puzzle out all over one half of the kitchen table. The first thing we set up was the rectangular guides that snap into place; then you add the larger circular pieces to them, fitting them into the proper place. This setup serves as a guide for the child while putting the pieces together. At first, that part confused me, but I quickly figured it out and was able to show Jacob how to use it. He already had it pretty much figured out before good ole Mom, though.:) I thought this puzzle might be a challenge for Jacob, but he actually did really well with it.
He was going to town on it, and he has it halfway done, with a little help from Daddy who couldn't resist working on it before we got home from karate last night. It is hard to resist working on if left out. Anyway, Jacob started out by taking out the starter piece that was separated in a little bag. Each piece has a number and an arrow on the back, signifying which piece to add next and in which direction, which makes it a lot easier to put together or to doublecheck yourself if you'd rather use the picture side of the puzzle. I think Jacob was using both as he snapped pieces into place. Using the picture side is a bit more of a challenge, but it would make for a great geography lesson/supplement. The pieces are not your ordinary puzzle pieces. In order to form a round globe, they are curved pieces, and they are plastic, not bendable. This means that they are very durable, which I love as a mom to two hard-playing boys. There are 96 pieces in all. Best of all, it uses no glue. I found that the pieces stayed together pretty well, especially once you got it going and had it resting on your surface. At first, I had to be more careful, but once we got it going with 5-6 pieces (which I did help Jacob with), it stayed together much better.
This puzzle makes for a great supplement to any homeschool curriculum. It would be great for kinesthetic learners and to build fine motor skills, as it gives tactile stimulation. The globe itself is very attractive to young minds with its bright colors and animals that decorate the surface.
The
Puzzleball Globe
is best suited for ages 6+, and it's available on
Timberdoodle
for $12.75. This is definitely a worthy price, in my opinion. This would actually make a really great Christmas present, one the whole family could enjoy together.
Melissa J's Thoughts
I'm a sucker for jigsaw puzzles, especially unique ones. This puzzle globe from Timberdoodle is geared for children but provided plenty of amusement for me as well. :) The first thing I noticed when I was opening the package was how sturdy the puzle pieces are. I was expecting the usual cardboard ones and was wondering how they would form a ball. Or styrafoam that my daughter could get her hands on and snap in half. But these are firm, plastic pieces that are pretty much indestructible.
Not only are the puzzle pieces sturdy for wear-and-tear sake, they also help the puzzle stay firm as it's being built up. The click into place firmly but not so hard you struggle to put them into place.
The beginning directions confused me. I couldn't understand what the two rectangular pieces were about with the accompanying circles, but then I figured out they were a guide so I would know what the puzzle was supposed to look like. It definitely helped. :)
This is a great way to teach geography, especially to children that learn through hands on experience. Seeing the round shape of the world, with the countries in relation to each other, is sure to stick in a child's mind more than a flat map will. Not to mention, as they build the puzzle, the animals that are pictures on the different countries will also sink indelibly into their brains. I can't think of a better learning tool for $12.75, than this puzzle.
It may be a bit hard for the age group it is proposed for, but I don't see a harm in that. In that case, it will require parents to help their children out with it, and what's wrong with that? Fact is, parents can probably use a geography lesson as much as their child does!
(Disclosure: We were provided this product, free of charge, by Timberdoodle, in association with MamaBuzz.)