*This book was given as a complimentary copy to Mama Buzz and reviewers, for blog tour purposes.*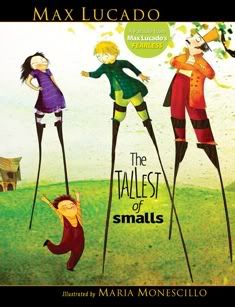 The Tallest of Smalls by Max Lucado
Ages 4-7

Retails for $16.99
Melissa J's Thoughts:
For my devotions with my daughter and daycare kids, the other day, I used The Tallest of Smalls by Max Lucado. Although at 2, 2, and 3 1/2, they probably didn't grasp the powerful truth of this modern day parable, they sat through the entire story. I attribute that to the sing-song rhythm of the book.
The drawings are awesome and had me as captivated as the kids. This is a book that you could easily spend time exploring all the different details on each page. It is a unique kind of artwork and yet, very attractive to the eyes, especially little ones.
Although the children could not comprehend the message of the book, I did. And honestly? as a 34 year old adult woman, who longs to be known and important, during these stay-at-home days, it touched my heart profoundly. How often do I try to be someone I'm not, by placing myself on stilts that are high and wobbly? And how often do I come crashing down, only to find yet another layer of acceptance in who I am?
To be sure, as my birthdays pass by, I find myself more willing to stay firmly planted on the very realistic earth instead of longing for stilts. . . but still, I have my days. The message within this book is for more than children - it is for each one of us adults too. The message that
"I may not be much-
the smallest of smalls-
but since Jesus loves me,
I'm the tallest of talls."
Though $16.99 might seem kind of steep for a children's book, the message is priceless, and for that reason, I highly recommend the book!
Mel's Thoughts:
Yesterday, before we started school, we sat down and read
The Tallest of Smalls
by Max Lucado. It was a little different than other books I've read by Max, but it was still very good. The message throughout the book was clear: that even though Ollie felt like noone could see him because he was so short, he still mattered. He was made exactly as he was supposed to be made, for when he got what he wanted, it wasn't as great as he thought it would be. In fact, it was disastrous.
The book is in rhyme form, which at times, was a little harder to follow, but it still kept our attention. Beautifully illustrated by Maria Monescillo, it has colorful, full-page pictures that your child can follow along with. Jaden actually sat through this book without getting up, which was another really positive thing for me....just to be able to sit and hold him and read to him.
The ending of the story was my favorite. Even though Ollie's turn with the stilts was disastrous, Jesus was right there to pick him up and lift him up. I really thought that was a great lesson for my boys, that even though they might fall, He is right there to pick them up, and He loves them no matter what; after all, God made them the way they are.
You can get The Tallest of Smalls for $16.99 from
Thomas Nelson
. This is a little pricey, in my opinion, but it is still a wonderful book. It is a hardcover edition with a really attractive dust jacket. It's another book that I'm happy to add to our bookshelf.
(Disclosure: We were provided with this free book by Tommy Nelson, in association with MamaBuzz.)