Melissa J's Thoughts: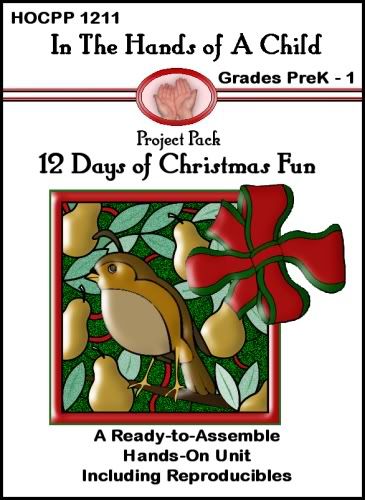 Because I'm a bit housebound without a car, I was unable to go and buy the supplies necessary for the entire
12 Days of Christ
mas
Fun

project pack, written and compiled in a neat e-book by
Hands of a Child
. *insert sad face* I just recently discovered lap booking, and even though I have a pre-schooler, have quickly developed an addiction. Ok, "addiction" may be too strong of a word, but I certainly enjoy putting them together!
After beginning with an introductory explanation of what a Project Pack is and how to adapt your project to fit your child's needs, 12 Days then provides the list for everything that will be needed to complete this pack over the 12 days of Christmas (beginning on Christmas Day and ending on Epiphany).
Each day then has an activity that your child can complete.
Day 1: Create a bird out of paper and craft supplies
Day 2: Create two Turtle Doves with paper and craft supplies.
Day 3: Create Three French Hens
Day 4: Create Four Calling Birds
Day 5: Create Five Golden Rings
Day 6: Create Six Geese-a-laying
Day 7: Create Seven Swans-a-swimming
Day 8: Create Eight Maids-a-milking
Day 9: Create Nine Ladies Dancing
Day 10: Create Ten Lords-a-leaping
Day 11: Create Eleven Pipers Piping
Day 12: Create Twelve Drummers Drumming
These all go together to form a lapbook at the end of the completed time period, colorful and fun!
Each activity has some additional activities and sometimes accompanying songs to listen to and at the end of the book, recommended reading books are listed.
For those afraid they are going to have to design and do artwork for each day's activites, they can breath a sigh of relief. Templates and specific instructions are included in this e-book. Everything that is needed, minus craft supplies, is included in this package.
Is it worth $20.00? For those that love to lapbook but aren't creative, yes. For those that are resourceful, all on their own, then $20.00 may seem to steep of a price for this e-book.
Mel's Thoughts:
Hands of a Child
is a company that was started by two homeschooling moms who were tired of constantly searching for the right supplies and images necessary for lapbooking. They now have over 200 project packs, as well as lapbook supplies, craft supplies, membership programs, etc. They are continually adding new project packs as time goes on.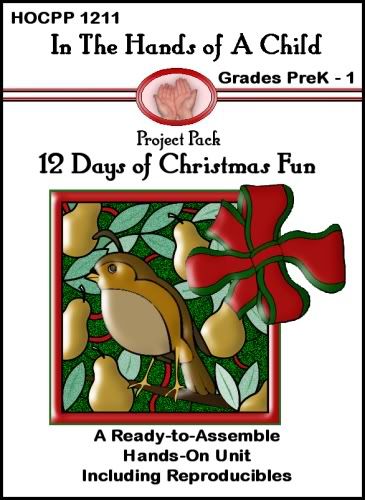 Project packs contain activities and lesson plans pertaining to a certain subject. For example, they might have a project pack on butterflies. Your child could do a unit study on butterflies with that project pack. We received the
12 Days of Christms Fun Project Pack
. This particular pack is meant for the 12 days of Christmas beginning Christmas Day, or it can be done anytime really, even in the 12 days leading up to Christmas. It is meant for grades Pre-K-1st grade. The pack contains projects for each day, lists of supplies needed, instructions on how to do our project pack, or lapbook, and put it all together, tips on teaching the lessons, etc. This particular pack doesn't really contain full lessons, since it's meant for doing Christmas projects with your children. I did find the supply list that came in the beginning of the pack quite helpful; it lists the supplies needed by day. Most of the supplies are relatively inexpensive, and some might even be found around the house, which makes it even better. All of the reproducible images for each day's projects are found towards the back of the pack.
Some of the projects included in this pack are as follows:
Day 1: A Partridge in a Pear Tree

Day 2: Two Turtle Doves

Day 3: Three French Hens

Day 4: Four Calling Birds
....and so on; each project fits the song The Twelve Days of Christmas with activities and craft ideas for each day. By the end of this pack, your child should have created at least one lapbook. The pack offers pictures of what your lapbook might look like, but ultimately it's up to you and your child, based on his creativity and what he has learned or what he likes/dislikes. The boys and I actually started on Day 1's project, A Partridge in a Pear Tree, and here is what they made (Hint: They're supposed to be partridge birds....) :)
Jaden even got in on this project, since it actually fit his age and wasn't really too hard for him, with a little bit of help. We had to improvise with some of the supplies, but overall, they had fun with it, which is what matters....
At the end of the pack are recommended Christmas books that your family might enjoy together while working on this project pack. I love how Biblical concepts/Scripture are weaved throughout the projects. This pack would definitely inspire creativity. It's great for tactile stimulation and learning coordination/fine motor skills, as the child gets to cut, glue, write, draw, color, put together his lapbooks, etc. It's about learning by doing, which definitely fits kinesthetic learners.
The
12 Days of Christmas Fun Project Pack
is available in several forms: E-book, printed, CD, Printed/CD Combo or Kit Pack. Prices range from $12.00-$27.00. We received the E-book, which is $20. I probably would not pay that much, although with all of the materials it contains, it is probably worth that price. We are just starting to get into lapbooking, though. If your children can't get enough of lapbooks, then
Hands of a Child
will most likely be a goldmine of information and help to you.
(Disclosure: We were provided this product, free of charge, by Hands of a Child, in association with MamaBuzz.)