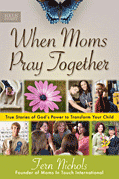 When Moms Pray Together
by Fern Nichols
Put out by: Tyndale

Price: $13.99

Book Info (as taken from the Tyndale site): Moms in Touch International is an organization that brings moms together to pray for their children and their children's schools. As MITI prepares to celebrate its 25th anniversary, Fern Nichols, the founder and president, has collected some of the most inspiring and encouraging stories of God's work in answer to those prayers. When Moms Pray Together will inspire and equip mothers to pray more consistently and hopefully for their children while encouraging them through the stories from moms everywhere.

Disclosure:
Mama Buzz- and reviewers -received a complimentary copy of this book for blog tour purposes.
I am a huge advocate of prayer, being someone who is a product of it. When I ran a private counseling center, and counseled wives and mothers, I often would remind them, "Don't underestimate the power of prayer." In fact, I believe prayer is the number one tool we need as mothers, in conjunction with an intimate relationship with God. When Moms Pray Together really brings that point home.
The author, Fern Nichols, founded Moms in Touch International in 1984. The main goal of the organization is forming groups of women who pray for their children, whether they are sons and daughters, grandchildren, or children the women know. The belief is, "prayer makes a difference". When Moms Pray Together is a compilation of stories from women over the years, who saw firsthand, the difference prayer makes in a child's life.
Each chapter begins with a verse and quote on prayer. Then, the story is told. Stories that will grip a Mama's heart. How prayer helped direct the strong will of a child into a positive lifestyle, prayer's ability to break the bondage of drug addiction, prayer releasing the learning potential in a child with learning disabilities, and how prayer carried a family through a child's open heart surgery.
The stories include everything a Mama can face, from a child with sexual addiction to a child that is sexually traumatized. One Mama's prayer story comes from south Korea, another, from prison. Some prayers helped lay the foundation for a new high school and some helped the friends of a daughter.
This book moved me as a mom. It moved me, it inspired me, and it made me long for other moms to pray with. . I'm not quite sure what to do with that longing yet but I sense something is moving in my heart regarding the issue. I can't just walk away from what I read in this book with no response. To read of such incredible answers to prayers makes my heart leap with the potential of what prayer can do in not only the lives of children, but their moms as well.
Mel's Thoughts:
Sometimes, as parents, prayer is the only thing that can get us through certain situations with our kids; actually, ditto that for life in general, not just as parents.
When Moms Pray Together
, by
Fern Nichols
,
is a book that every mom should read, in my opinion. The book is published by Tyndale House with Focus on the Family. It's a book that is filled from cover to cover with inspirational stories of the power of prayer in the lives of 25 moms and their children.
In my own prayer life, I sometimes struggle with how to pray. Fern Nichols founded

Moms In Touch International

, an organization that gets moms together to pray for their children and their schools. I like the concept of moms praying together. It just makes complete sense.....it's a way for them to connect both with each other and with God.....it's a way for moms to form prayer alliances together for the sakes of their children.
As I read through the stories, there were a few that really stuck out to me. Here are just a few of the stories from the Table of Contents:
Ready for Anything
From Breaking the Law to Enforcing the Law
The Heartbreak of Bulimia
Life with a Drug-Addicted Teenager
A Divine Heart Transplant
My Heart Still Sings: A Mom Faces Her Child's Suicide
The Legacy of a Praying Mom Impacts Korea
Taking MITI to Ethiopia
Hope for Moms of Prodigals
....and many more.
The very first story, Ready for Anything, really gripped my attention from the get-go. Connie Halfaker, a mom in California, had two children, but her daughter was the focus of this particular story. She told about how active her daughter was as a toddler, which I can totally relate to with Jaden, and how hard it was just keeping up with her, least of all everything else. Dawn was a very strong-willed child and "bucked authority." As Dawn came to school age, Connie joined one of the MITI prayer groups, and learned how effective prayer can be. Dawn continued to be the subject of Connie's prayers through the years, as she faced certain situations. After graduating high school, though, Dawn ended up attending West Point, the type of school that Connie would have never imagined for her strong-willed child. Dawn went on to graduate and become an officer, she deployed to Iraq, and sacrificed her arm for her country, when her Humvee was attacked by a rocket-propelled grenade. It was just such a moving story, that through all those years of anxiety and sometimes fear in the latter, God answered Connie's prayers. He took care of her little girl.
One other story that really was heart-wrenching but life-changing was My Heart Still Sings. A mom struggles with her connection to God after her son takes his own life (due to a struggle with bipolar disorder). I can't imagine going through something like this, but only by the grace of God.
Each story begins with Scripture and a quote. Then, the story is told by the mom who is the subject of that particular chapter. At the end of each chapter is a prayer Scripture and a prayer. Each mother in each story had joined a Moms In Touch group, which radically changed their prayer lives. I do believe that prayer for our children is so essential. This book has made me a little curious to see if I could maybe find a group in my area....or, as I've thought about doing before, start an online prayer group for moms.....hmmmm....anyway,
I definitely recommend this book to anyone, especially moms.