Mel's Thoughts: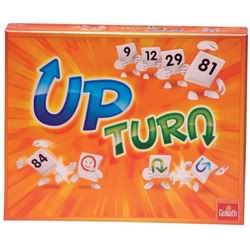 Timberdoodle

is an amazing company that is just full of great educational toys, games, and homeschooling materials.
We recently received the game of

Upturn

in the mail. It's a game for ages 6+ (or as soon as they can recognize double-digit numbers), and you can play with 2-4 players. The sturdy box it comes in is very nice with storage dividers inside and a drawstring bag to hold all your number tiles.
As we were setting it up to play, it almost reminded me of Rummikub in a way. I very faintly remember playing that with our neighbor, whose house I used to clean, as a teenager. Dan, Jacob, and I were able to play, and we each got one standing tray to organize our number tiles on. We each got seven number tiles. Included with the number tiles were arrow tiles, numbered penalty tiles, twin tiles, skip player tiles, and jokers. We picked a number tile from the bag and laid it on the table, and then whoever went first got to pick the direction we'd be going at first, up or down (number-wise). For example, if that first tile was a 35, then Jacob might go first and place a 41 tile down, stating that we were going up. Then, as we went along we could change the direction of the game, we could skip players, or we could stack tiles up on the other player's rack with our penalty tiles. The twin tiles were my favorite, because if you got a twin tile, say 99, and the last tile laid down was a 45, you could lay down anything between that 45 and 99 because of that twin marker, all in one turn. When you got down to one tile, you had to yell out, "Upturn!"; if you didn't, you would be penalized by having to pick up 3 more tiles to add to your rack. Whoever got rid of all their tiles first, won the game! Jacob actually won our first game.... I know this may be totally confusing until you actually play the game, but just know that we had a lot of fun with it. Games are nice, with our family, because they are something we can sit down with and be in the moment together. Even Jaden sat there with his coloring book and was content to just be with us.
It's actually a great game that I may use some in math with Jacob and even Jaden later on because it would help give practice on greater than/less than concepts, recognizing double-digit numbers, etc. It has a great mental/strategic aspect to the whole game. You can find

Upturn on Timberdoodle

for $25.
Melissa J's Thoughts
If you had told me a week ago, that I thought $25 was worth a game that involved numbers, I would have thought you were nuts! But Upturn is definitely worth the purchase price. For a person who hates numbers, I sure enjoyed the game. My husband, who hates games, even commented, "This is kind of addictive. . ."
We did find it a bit difficult to get into the groove in the first two games, just because different tiles have different signs on them and we had to keep looking at the directions to see what they meant. But by the third game, we were on a roll and I was disappointed it ended so quickly.
Although the game doesn't use advanced math skills it still helps kids use their numbers-knowledge to figure out which numbers fit into the ascending and descending series that are going on.
I didn't get a chance to try this out with actual kids, since we had to cancel our game night because of illness, but I already have plans to take it to my in-laws for Christmas to play with my nephews. In fact, I think my mother-in-law will even enjoy it!
I was so impressed with the tile pieces we used too. I need to add that. They are sturdy, heavy duty game pieces that I would guess are indestructible to even the most active, mischievous child.
Timberdoodle is impressing me more and more, with every review I do. Their products are amazing and high quality. Not only that, they teach children through the action of play. As a mother, who encourages both play and education, I appreciate this mix. I love the fact that my child can have a good time, all while learning how to use her educational knowledge. Thank you Timberdoodle for providing such amazing teaching tools for our children!

(Disclosure: We were provided with this product, free of charge, by Timberdoodle, in association with MamaBuzz.)