Melissa j's Thoughts
We received
I Can Trace
today in the mail. I'm so excited about it, I'm going to order two more for my daycare kids! I'll use them in the winter quarter of our pre-schooling. The trouble is, when I went to the
pre-school section
of their website to order my additional copies, I saw about 20 other things I wanted. . . but I guess that's not what this review is about, is it? :-)
I feel a bit foolish that this book is $13.00, based on how much comes with it. I spent more than half that amount on another similar series this past Fall, only the pages were less than half the size and the book had less than half the amount of pages this particular volume has. I wish I had known about Timberdoodle when I bought that original series. . . .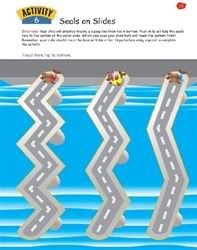 The majority of pages in the book are tracing pages, which basically consist of colorful pictures with thick, dashed lines that preschool hands should be able to follow in their first attempts at tracing. It starts out simple with just straight lines. For instance, page 1 has a dog, a mouse, a rabbit, and a bear on the left side of the page. On the right side of the page is their food. A thick, dotted line joins the two sides. This activity then increases in difficulty, ending with letters that need to be traced.
Lastly, the book also has a wipe-page in the back, which your child can use to draw on repeatedly. This is a value all in itself if you have a pre-schooler who loves to draw and is just the cherry on the sundae in my book.
Is this book worth the cost? Absolutely! Take it from a mom who has browsed all there is out there, and even spent money on several products. For the price, this book delivers at least double what other companies are offering.
The
PrismaColor 12 piece pencil set
I also recieved from Timberdoodle, is listed at a price of just $8.00! I can't get over that. I've seen poorer quality colored pencils for double that in craft stores. This is a gorgeous set with vibrant, brilliant colors.
Normally, when I think colored pencils, I think weak transfer of color onto paper. Not so with the PrismaColor set. These write as brilliantly as they appear in their compact tin holder. This 12 piece set includes all the primary colors and will be great for children who are developing fine tuned motor skills and moving out of the crayon stage.
Timberdoodle

is a wonderful company that we've been blessed to be working with. They carry all sorts of
homeschool supplies
and
homeschool curriculum
. They have products for all ages, and this time we were sent the

Big Skills for Little Hands- I Can Trace

book, plus a
Prismacolor set
of 12 colored pencils.
This book is meant for agest 2+. I did use it with Jaden, but I think he just needs a couple more months before he'll really understand what he's doing. He was mainly interested in coloring with his new colored pencils. He did love the pictures in the book, though. The book is progressive in nature, meaning that it starts out with simple tracing pictures, like getting the animal or object from here to there. It will have straight lines to trace and then some curved lines. Sometimes the child will have to follow a certain color of line, so as to not get mixed up in the tangle of lines....sort of like a maze; in fact, there are a few mazes that challenge the child's thinking as he traces. As it progresses, the child is able to start tracing different shapes and eventually numbers and letters. In the back of the book are a few activities from the other
Big Skills books
, including
I Can Cut!, I Can Paste!, I Can Color!, I Can Draw!, and I Can Fold!
There are also suggestions for other things that you can do with your child around the house, to improve his fine motor skills, as well as a School Readiness Checklist. Another great bonus is the dry erase page in the back, which your child can use to draw on, write on, and then erase, only to start all over again.
In the front of the book are pages that help to explain brain research and things you can do to help stimulate and develop your child's brain. There are things to help you with his emotions/senses, language development (which I really need to work on with Jaden), exercise/coordination, large-motor and fine-motor development, and social skills. I am loving this book because it is something that I can pick a page or two every day and work on with Jaden; then I can expand upon those pages with other activities. I do think he needs a couple more months, though, before he will be fully ready to really embark upon this. You can get this book for $10.50 from
Timberdoodle
, which, in my opinion, is a great price! That is completely affordable for over 200 pages of activities and helps in teachingyour
toddler/preschooler. It's a great start for fine motor skills, as well as beginning handwriting skills.
We also received the
Prismacolor Colored Pencils
, a set of 12. These are so nice, that I'm tempted to keep them for myself, although I know that my children will greatly benefit from them. There is also a color shading stick included with the set, and the minute I saw this, I thought of Jacob's map work and all the shading in of oceans that he has to do. This will make it so much easier. We love colored pencils, especially for history and mapwork, because they just provide a much neater appearance for tedious work. I also love the idea of Jaden using the colored pencils, because it will help to start him out early on, holding a real pencil and learning how to use it.
The Prismacolor set is so nice; it comes in a thin tin case, with these colors included:
PC903 True Blue
PC909 Grass Green
PC912 Apple Green
PC916 Canary Yellow
PC918 Orange
PC924 Crimson Red
PC932 Violet
PC933 Violet Blue
PC935 Black
PC938 White
PC945 Sienna Brown
PC946 Dark Brown
You can get this set of colored pencils for $8.00, which, in my opinion, is also a fantastic price for something that will be of great use in our homeschooling ventures. Even if you don't homeschool, they are wonderful for any kind of activities you do or even for journaling, as Melissa J. was telling me earlier.
Either way, if you have a young child at home and are in need of great stocking stuffers or just a great present, these items might be just the thing to keep him busy on those cold winter days that sometimes lead to cabin fever.
(Disclosure: We were provided with these products, free of charge, by Timberdoodle, in association with MamaBuzz.)