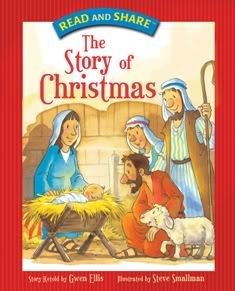 The Story of Christmas
by Gwen Ellis
Illustrated by Steve Smallman
Ages:
4-7
Put out by:
Thomas Nelson
Price:
$10.99
***Disclosure: Mama Buzz and reviewers, received a complimentary copy of this book for review purposes.
The Story of Christmas
is a charming way to introduce young children to the Christmas story. In fact, we will be using it in our home this year, on Christmas Eve, since our two year old wouldn't be able to sit still for the entire full version of the Christmas Story.
With cartoon-like illustrations the book begins with the story of an angel's message to Zechariah and ends with Mary, Joseph, and Jesus leaving Egypt and moving to Nazareth. In between those book ends, lies the story of John's birth, Gabriel's visit to Mary, Gabriel's visit to Joseph, Jesus' birth, the shepherd's visit, The wisemen's visit, and Mary and Joseph fleeing to Egypt. Each section contains that story in it's entirety, yet told with a brevity that will capture a small child's attention.
For older children, there is an added feature at the end of the book. This contains the pictures from each section, put in the wrong order. The goal is for children to pick out the pictures in the right sequence and tell the story themselves.
There is also a DVD that comes with the book, in which there are six animated Bibles stories about the life of Jesus. Although the animation is simplistic in today's world of big name movies that use computer animation, it's captivating. My daughter and day care kids are as glued to this DVD as they are to a Disney movie--maybe even more so as it's short enough in length to keep their attention the entire time.
$10.99 is a great value for this Christmas package and would make an excellent gift. A gift that can be used for years to come.
Mel's Thoughts:
I sat down to read through this book With Jaden last night, as it was almost time for bed. Read and Share's

The Story of Christmas

is retold by Gwen Ellis. It comes with a DVD that shares six stories from Jesus' life, including:
1. John the Baptist
2. Jesus is Born
3. Where is Jesus?
4. Jesus Tempted by Satan
5. Jesus' Life
6. Jesus Loves Children
This book is actually based on the International Children's Bible.
Each section in the book is 2 pages and covers a pivotal story in the Christmas story. The chapters are as follows:
An Angel's Message
A Baby Named John
Mary's Big Surprise
Joseph Marries Mary
God's Baby Son
Some Sleepy Shepherds
What the Shepherds Saw
Gifts for Baby Jesus
Another Journey
Home at Last!
Each chapter weaves through the stories of Jesus' birth, starting at the angel's message to Zechariah, how John the Baptist was born, the story of how Mary and Joseph found out that Mary was with child, Jesus' birth, etc. Each chapter is short and sweet, which makes it really nice for younger children, especially toddlers, who don't like to sit still for very long. Each chapter also comes with a set passage of Scripture, all from Matthew and Luke, as well as a thinking question to discuss with your child. At the end of the book is a section with just the pictures, so that your child can help to narrate the story back to you. I really liked this part, since Jacob and I use narration a lot in school. Jaden found the pictures of the animals, throughout the book, quite fascinating. He loves to figure out what each animal is and then make the sounds that animal makes. We had a lot of fun with the donkey.:)
I am actually thinking of using this book to read to the boys and to help me give illustrations when we set up our Nativity set this year. I really want them to understand why we celebrate Christmas and what each figure in that set means, and this book would make an awesome tool for that. Priced at $7.99 on
Thomas Nelson
, it is definitely a great buy, especially with Christmas just around the corner.