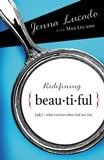 Mel's take:
It was honestly such a blessing to be able to review the book, Redefining Beautiful, by Jenna Lucado. This book is written mainly for teen girls, but I found my mama's heart encouraged by the words that I read in this book. As we get older, we sometimes forget what it was like to be a teenager, and although I wouldn't want to go back and do it all over again, I do wish this book had been out when I was younger. I found that it was such a refreshing read.
Jenna writes this book, along with excerpts from her dad, Max Lucado. She makes the book so relateable and real for teens today. Every topic covered has to do with not just outer beauty, but more importantly, inner beauty, because most of the time, what is happening on the inside, is reflected on the outside. Jenna illustrates that concept really well by not only giving examples of different types of teen scenarios/characters, but also by explaining how that relationship with God can be found and can flourish. It's not all serious, though. Jenna has a way of throwing in funny little tidbits, and I found myself giggling as I read, especially stories she shared about growing up with her dad. There are also several places in the book, where you can journal or answer certain questions, to help you better understand and be able to grasp what is behind a lot of thought processes that go on when you're a young girl, struggling to understand.
Along with the inner beauty, there are little boxes she has added with real beauty tips that can be tried, and I found myself wanting to try just a few, especially the Vaseline on the feet....I don't think I knew there were so many uses for Vaseline.:)
I was so impressed with Jenna's candid voice throughout the book and how she just seemed so real. It was easy to see that she has a heart for the Lord and a heart for reaching out to our young girls today. I've been trying to think of a young girl I could pass this book on to, but I'm not sure I want to give it up just yet.:) I highly recommend this book, especially if you have a teen girl in your midst that could use a helping hand, a fresh new outlook on God and what it means to be His forever.
To read more reviews on this book, visit

Thomas Nelson

.
Redefining Beautiful is a breath of fresh air in a world that thrives on (indecent, shallow, and shocking) shows like The New 90210 and Melrose Place, all geared towards a adolescent audience.

Instead of pre-marital sex being a given, Jenna calls out for a sexual purity that allows dignity and grace to remain intact. Instead of girls who chase after boys, Jenna encourages girls that they are worth being pursued. Instead of tight-fitting clothes that leave little to the imagination, Jenna challenges girls that modesty can be beautiful.


In Redefining Beautiful, teens girls are presented with an alternative definition to the word beautiful..

Beautiful: What God sees when God sees you.
While this may seem like a Christian cliche to throw out to struggling adolecents, who live in a world where beauty is based on looks, it isn't. Not when it is encased in Jenna's writing. She presents this definition with a realism of how hard it is to believe, in light of the lies the world feeds girls. She writes of "ugly days" and zits and isn't so far removed from her own teen years that she has lost touch of how devatasting those things can be for a girl.
While empathizing with teen girls, Jenna holds true to her message in each chapter--true beauty is what God says is beautiful. It proceeds out of an intimacy with Daddy God and manifests in a spirit that no amount of money can buy and the world's most beautiful person can't duplicate with their own power.
Redefining Beautiful is more than just a book to read. Jenna has given her readers places to write notes and answer questions, so the truths she writes, hit home just a little bit more. It's a book very needed in today's culture and I'm proud to have it on my book shelf of books for teen girls!






Mama Buzz Reviewers

Is your post up? Let us know by linking here please! :-)